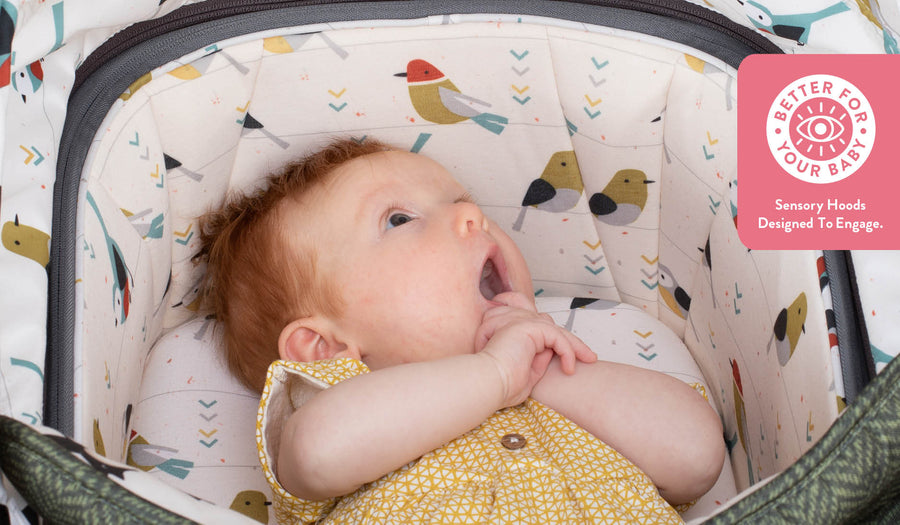 Better For Your Baby
When you place your baby under their Cosatto travel system sensory hood, you're harnessing early sensory skills – with designs that encourage engagement. ‌ We're serious about happy babies. From working with the UK's leading baby labs, to harnessing baby science to drive the development of new products – we're committed to bringing the happy to your baby.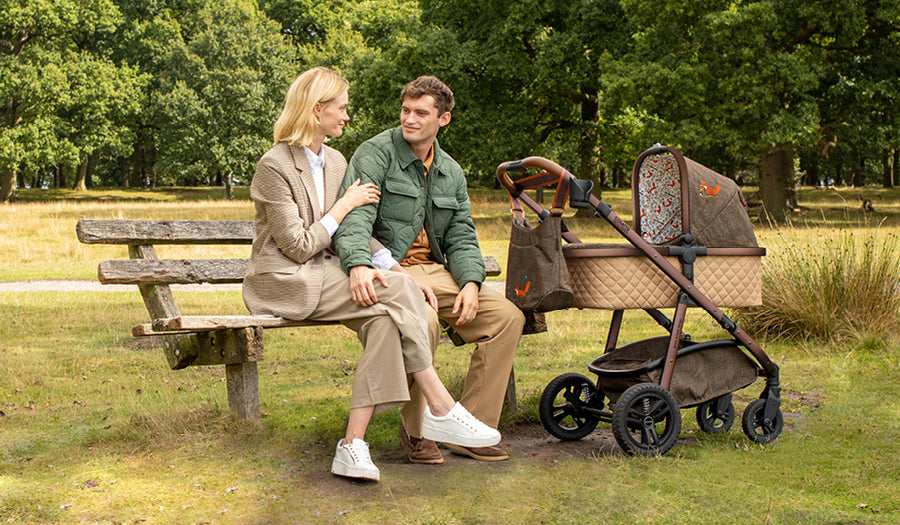 The Effortless Everyday… Enhanced.
Wow 2 SE has first class functionality for everyday freedom. Delivering world-class performance with enhanced extra-bouncy chassis and dual-mode suspension options, it offers supreme handling and max manoeuvrability. Wow 2 SE includes changing bag, footmuff and supersized basket - plus with dual suspension you can glide around town, then adapt to the great outdoors at the flick of a switch. Wow 2 SE has your every move mapped out.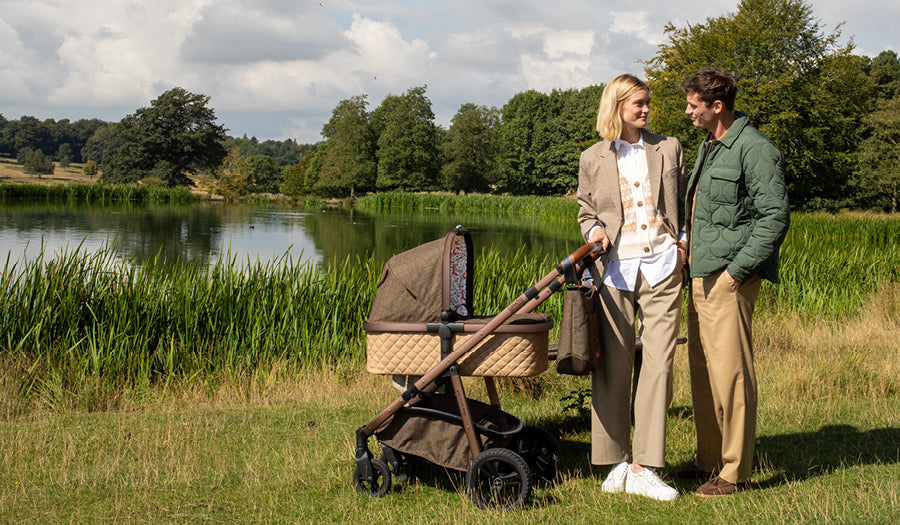 Compact but Roomy
Wow 2 SE travel system is at your service. Full of clever contradictions, it's compact but roomy - with a spacious carrycot for your growing littl'un and a big basket that goes beyond your everyday bits and bobs. This is your clever, compact companion.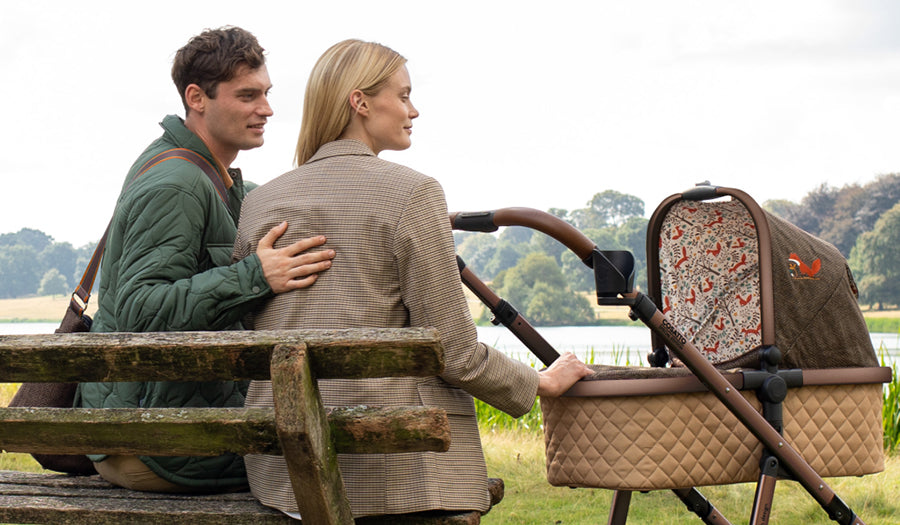 Exquisite Craftsmanship
With brains and beauty, Wow 2 SE is the world-class wonder with premium finishes, luxury tailoring and thoughtful details. From gleaming tonal chassis to accent wheel pips, it's visibly extraordinary – and with hidden detailing it's discreetly dazzling too. Discover second nature features with second glance styling.
Tiny Boot Approved
Wow 2 Special Edition Chassis really delivers on all-terrain performance bringing a smooth off-road experience plus it is Tiny Boot approved, fitting into a Fiat 500. Add the matching Acorn i-Size car seat to make it a travel system. The Acorn i-Size / Tote i-Size / Multi-brand car seat adaptors (sold separately) let you attach your Acorn i-Size car seat to your Wow 2 travel system.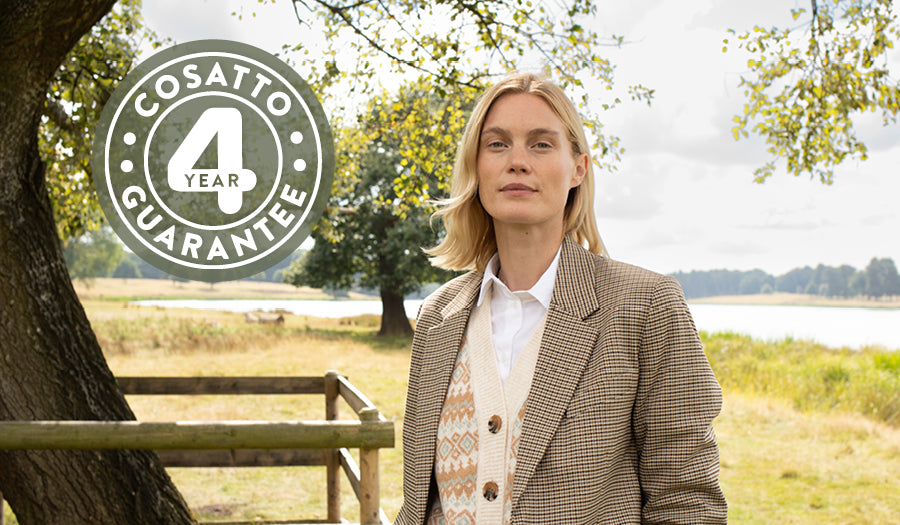 Eco Fabrics & 4-year guarantee
The Wow 2 Special Edition is one of the first Cosatto Travel Systems to use fabric made from recycled bottles with over 150 plastic bottles in every product. Creating this comfy fabric is part of Cosatto's commitment to being as eco-conscious as possible. From solar panels at head office, to a business-wide drive for carbon neutrality – Cosatto are now addressing product processes to make the biggest impact of all. Bottles in our fabric means less bottles in landfill and less bottles making their way to the ocean. The product includes our industry leading 4-year guarantee - cover like no other, for ultimate peace of mind.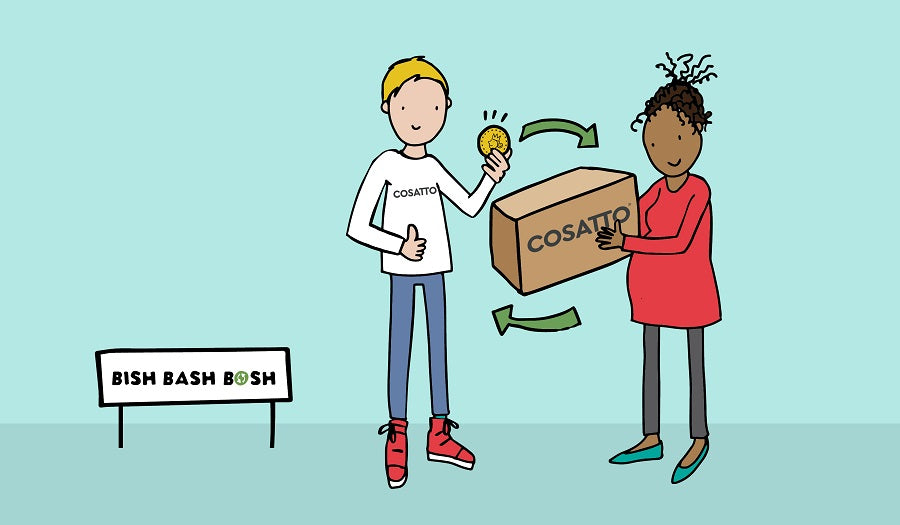 Bish Bash Bosh Buy Back

Sell us your used Cosatto... Discover our fuss-free, friendly buy-back option. Trade in your used Cosatto travel system, get Cosatto vouchers. Win win.
*Travel Systems Only
Specification
Maximum Weights
Carrycot Birth-9kg
Seat Unit 25kg
Basket 5kg
Measurements
Folded Size: L: 93cm x W 64cm x H29cm (Tiny Boot Approved)
Handle Height: 97cm- 110cm Leatherette
Basket: W:39 cm x D:21 cm x L:63cm
Product Weight
Carrycot Weight: 4.9kg
Seat Unit Weight:3.4kg
Chassis Weight: 9kg
Features
Carrycot
From-birth to 9kg carrycot with comfy mattress, carry handle and removable washable liner
Carrycot suitable for occasional overnight sleeping
UPF 100+ Hood with a one-hand release for ease and comfort
Seat Unit
Parent & forward-facing seat unit up to 25kg. Suitable from 6 months
Roomy seat structured for comfort with handy one-handed recline
UPF100+ protection sunshade hood with extendable sun visor and toy loops
One-hand adjustable leg rest
Removable bumper bar with padded cover
Crotch, Chest pads and tummy pads and Cuddly Companion included
Chassis
Suitable from birth up to 25kg
Dual mode all-round suspension
Removable, quick-release premium puncture-proof, multi-terrain wheels
Compatible with Acorn i-Size car seat (car seat and adaptors sold separately)
Telescopic leatherette handle lets you adjust the handle height for comfort.
Super-sized basket with handy compartments
Compact fold - Tiny Boot Approved
Lockable front swivel wheels for tight spots
5kg basket weight
Industry leading 4 Year Guarantee.
Drink holder
Travel companion
Footmuff
Custom-crafted to fit your pushchair perfectly.
Quilted for extra snuggles with kangaroo pouch for cosy little hands.
Summer fresh option. Just flip the liner.
Longer length for a longer lifespan.
Washable. On a hand wash cycle at 30 degrees.
Changing Bag
Keep your baby's bottle warm or cool with the insulated bottle holder.
Luxury padded wipe-clean changing mat.
Lined with coordinating patterned fabric.
Handy key holder.
Inner zip compartment for special bits and bobs.
Outer zip pocket for quick secure stashing.
2 inner pockets.
Adjustable shoulder strap.
Zip closure for security.
Magnetic closure on main front pocket.
Metal base studs to protect bag.
Acorn i-Size Car Seat
i-Size compliant when used with Acorn i-Size base
Complies with the latest R129 safety regulation
From Birth (40cm) up to 15 months (87cm)
Rearward facing
Suitable belted and ISOFIX (when paired with Acorn i-Size base)
Acorn i-Size Base
Conforms to R129.03 Standard
Compatible with Acorn i-Size car seat
Easy to install
Acorn i-Size base has a rebound bar and support-leg anti-rotation devices to prevent car seat movement rotation
Allows for Acorn i-Size to be used with ISOFIX or i-Size
Several indicators to confirm correct fitting in your car
Reviews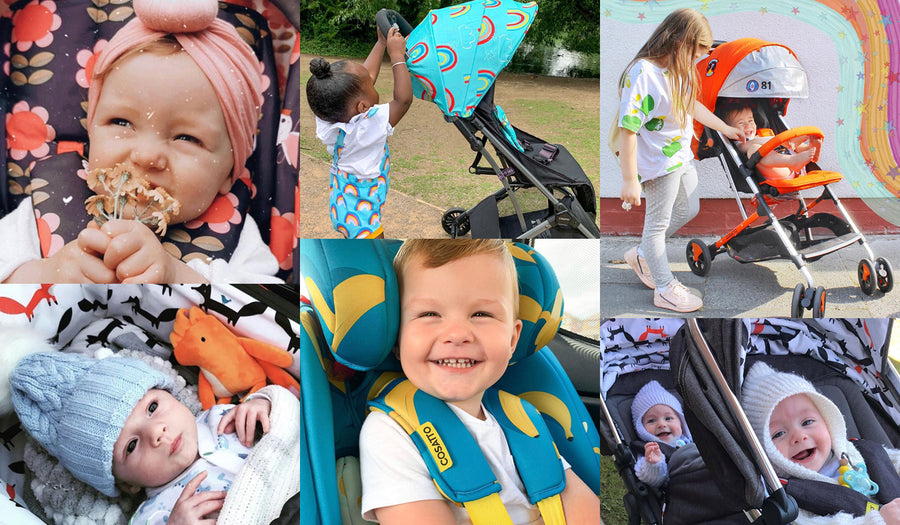 Show us your Cosatto
There's a bit of Cosatto waiting to burst out of everyone. Express yourself. Show us your most Cosatto look. Share your most Cosatto moment…
#bemorecosatto