Specification
Age Range
Group 0+/1/2/3 car seat.
Suitable from birth up to 36kg (approx. 12 years old.)
Extended rearward-facing 0-18kg (approx. 4 years old)
Forward-facing 9-36kg (approx. 12 years old)
Weight
Designed and tested for your newborn right through to 36kg. (0 – 12 years approx.)
Complies with R44/04 at all stages
Features
Features and Benefits
Group 0+/1/2/3 car seat.
Suitable from birth up to 36kg (approx. 12 years old.)
Extended rearward-facing 0-18kg (approx. 4 years old)
In rearward facing ISOFIX it delivers the same i-size added safety performance with side impact protection.
In rearward facing ISOFIX, it is tested to higher speeds. Tested under conditions, which are in excess of the standard and are consistent with accepted consumer rated testing.
Forward-facing 9-36kg (approx. 12 years old)
Complies with R44/04 at all stages
Evolves with your child. Adjustable multi position shoulder and headrest heights for the perfect fit.
Impact-absorbing foam inlay
Improved shell for additional comfort
When you are stationary you can rotate the seat for easy access to your child from the car door. Always drive with seat in fixed position. Seat rotation is for stationary use only.
Side impact protection – contoured seat shape with deep side wing panels, built to absorb forces.
Includes patented 5 point plus anti-escape system. (Group 1 fitting only).
4 position recline in Group 1 forward facing mode only
Quick release 5-point safety harness.
Padded removable new-born seat liner
Anti-slip chest pads and tummy pad included.
Removable washable soft goods with extra padding
Quick release fabric covers for easy cleaning
Industry leading free 4-year guarantee.
Fitting
Rearward - Group 0+ - Belted & support-leg – Semi-universal
Rearward - Group 0+/1 - ISOFIX & support-leg – Semi-universal
Forward - Group 1 – ISOFIX, Belted & support-leg – Semi-universal
Forward - Group 2/3 –Belted – Universal
Forward - Group 2/3 – ISOFIT– Semi-universal
Reviews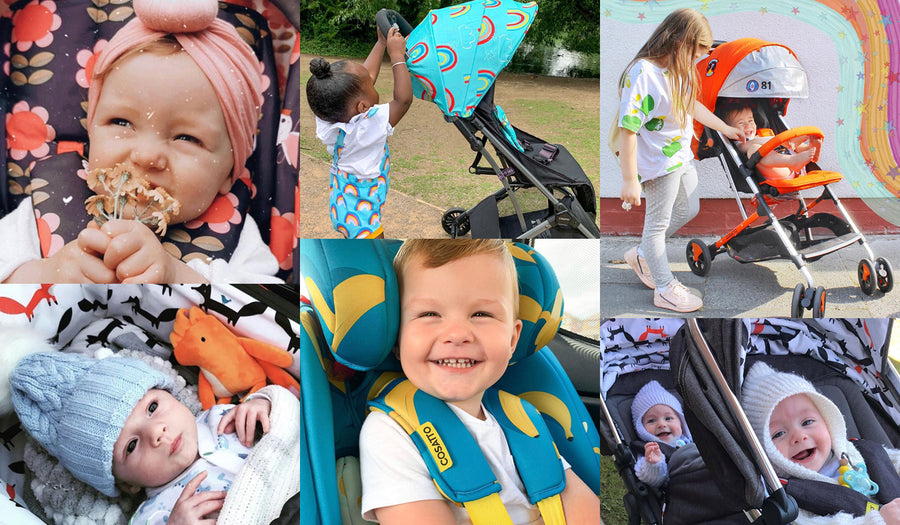 Show us your Cosatto
There's a bit of Cosatto waiting to burst out of everyone. Express yourself. Show us your most Cosatto look. Share your most Cosatto moment…
#bemorecosatto