Specification
Weight Range
Carrycot 9kg
Seat Unit Single 18kg
Measurements
Folded Size: Tiny Boot Approved- L:97cm W :63cm H:25cm
Handle Height: 72cm- 106cm Leatherette
Basket: W:29cm x D:25cm x L:33cm 2kg
Weight
Chassis Weight - 8kg
Features
Chassis and General
Easily transforms to be used with carrycot, pushchair seat, or matching Cosatto group 0+ car seat (sold separately).
Buy Port I size car seat to attach to Giggle 3 chassis via Port car seat adaptors (sold separately).
(Note: Giggle 3 with 'Seedling' design is intended for the Cosatto Hold group 0+ car seat (adaptors included).
Compact, easy, quick flat-fold.
Lightweight aluminium chassis.
Lockable swivel front wheels.
All-round premium suspension for a smooth ride.
Quick-release removable premium wheels with bearings for added glide.
Convex profile tyres for an air-soft feel.
Unique tyre material for enhanced durability with greater softness of ride.
Deep tyre tread for multi terrain traction.
Includes a little luxury travelling companion. Friends for life.
Removable bumper bar/carrycot handle with fabric cover.
Spacious storage basket tested up to 2kg.
Sun visor and toy loops on hood.
UPF 100+ sunshade protection.
Height-adjustable luxury leatherette ergonomic handle bar for comfort.
Industry-leading 4 year guarantee for your peace of mind.
Coordinating changing bag and footmuff (both sold separately).
Car Seat (Sold Separately)
Compatible with coordinating Cosatto 0+ car seat (sold separately).
Buy port i size car seat to attach to Giggle 3 chassis via Port car seat adaptors (sold separately).
(Note: Giggle 3 with 'Seedling' design is intended for the Cosatto Hold group 0+ car seat (adaptors included).
Buy Cosatto Dock/Multi-Brand adaptors to fit other leading brand's car seats. Check compatibility.
Carrycot
Carrycot suitable from birth up to 9kg. (approx. 6 months).
Luxury carrycot with maximised space to accommodate growing babies.
Thick supportive mattress.
Carrycot suitable for occasional overnight sleeping.
Luxury tailored zip-in carrycot liner. Removable and washable for ultimate freshness and comfort.
Seat Unit
Pushchair seat suitable from approx. 6 months up to 18kg.
Reversible pushchair seat. It's duo-directional so your baby can bond with you or enjoy the view.
4 position recline.
Compliance
Conforms to BS EN 1888-2:2018 & BS EN 1466:2014 (carrycot only).
5 Reasons to Buy
Cosatto Paloma Faith Special Edition Giggle Pram and Pushchair
Paloma Faith. Artist, style icon, actress, activist, mother. This inspirational Brit-award-winning artist with three double platinum selling albums and a career spanning over a decade appears regularly on our TV screens, has over a million followers on social and is a force for empowerment of young women.
And yet…
As a new mum Paloma recalls feeling adrift in a world of prams that did not suit her personality. "I felt like I had to become someone else to be a good mother." Then happily, she met Cosatto, the award-winning brand saving the world from boring baby stuff. Kindred spirits, they set about designing together. Paloma wanted to show her child it's "ok to stand out from the crowd and have a joie de vivre about all things." They created an exquisite collection that was pure Paloma and pure celebration, unleashing wild prams and pushchairs reflecting her inimitable quirky style and warrior nature.
So. This is your time. Prowl the pavements together. Welcome to fierce freedom.
"These designs make me feel happy to be different and my child loves them too." – Paloma Faith.
Hear us Roar
With 'Hear us Roar' design, Paloma Faith brings leopard print - the wildest catwalk trend - to Special Edition Giggle, the classic pram and pushchair.
From footwear to interiors to the latest couture collections, leopard print is the darling of the high street. This massive trend is set to run and run.
The ultimate signature print of rock 'n' roll princesses, fashionistas and uber-feminine Hollywood divas, it's empowering and exquisite.
With lacquer red lining, gilt touches and added grrr, this piece is the ultimate head turner. So rock the leopard print Paloma pram and sound your roar.
5 Reasons to Buy Giggle 3
Compact flat-folding Giggle 3 is your go-anywhere, stow-anywhere hero. The 7kg lightweight chassis is great for busy family life. Concerned about space in your boot? Giggle 3 is 'small boot approved' and fits easily in a Fiat 500.

Giggle 3 includes a luxury carrycot with ample space to accommodate growing babies up to 9kg (approx. 6 months old). The thick supportive mattress makes it ideal for occasional overnight sleeping and for ultimate freshness, the carrycot liner is machine washable. The separate seat unit with detachable bumper bar is suitable for a child up to 18kg (approx 4 years old). The seat allows your child to face you or face out to see the world, with multiple recline positions - from upright to laid-back lounging. Giggle 3 is suitable for all weathers with the tailored raincover, that fits both carrycot and seat unit.

With a sportier streamlined feel and great manoeuvrability, the nippy 3-wheel design helps negotiate tight spots. The all-round suspension and puncture-proof tyres make for an ultra-smooth ride that can handle multi-terrain.

Features: 'push on - push off' brake, adjustable leatherette handle, easy-release buttons to make mode changes a breeze, pop-off swivel wheels that can be cleaned effortlessly and a spacious easy-access basket.

Working with the University of Sussex Baby Lab we're creating stuff that's even better for your baby. Experts in baby psychology, their team of leading scientists and academics investigate how babies see, think and learn. Our engaging patterns feature in the hood liners of all our products to boost their early sensory development. Giggle 3 also includes a coordinating cuddly travel companion and UPF100+ sun visor with toy ties for your baby's favourite toy.

Our industry leading 4-year guarantee offers cover like no other, for ultimate peace of mind.

Giggle 3 includes: chassis, wheels and basket, carrycot with multi hood and apron, carrycot mattress, seat unit, chest pads, tummy pad, bumper bar, raincover and travel companion toy.
Add the matching Cosatto Port i size 0+ car seat and adaptors to make Giggle 3 a travel system.
Matching changing bag and footmuff also available.
Giggle 3 - 3 in 1 can be used in 3 ways: With a carrycot as a pram for newborns, a pushchair for older babies and a travel system with a compatible infant car seat clipped onto its chassis. Giggle 3 takes you from birth and beyond.
Reviews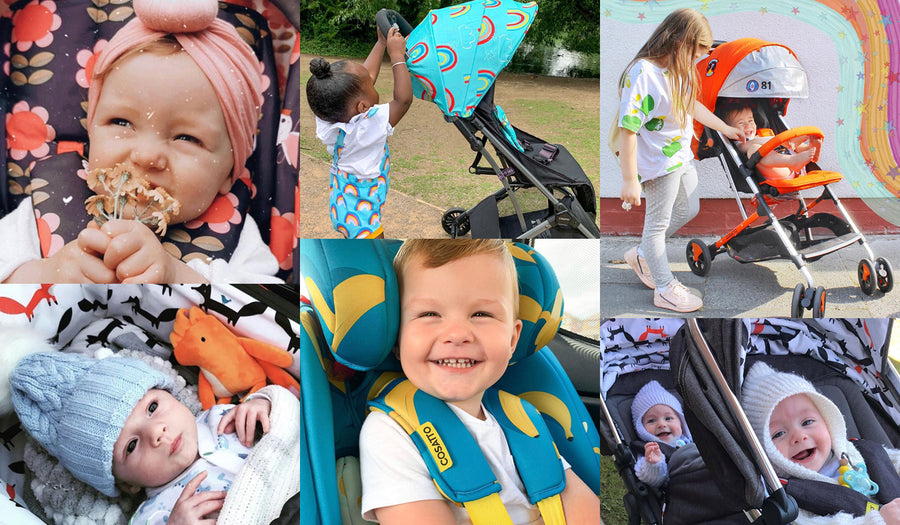 Show us your Cosatto
There's a bit of Cosatto waiting to burst out of everyone. Express yourself. Show us your most Cosatto look. Share your most Cosatto moment…
#bemorecosatto