Specification
Weight Range
25KG per seat
Measurements
Folded Size:72cm x73cm x 106cm
Handle Height: 105cm
Maximum Basket Weight: 5kg
Weight
Chassis: 13 KG
Features
Stroller
Suitable from birth
Supports up to 25kg per seat
Lightweight aluminium chassis with carry handle
Full suspension
Integral hood sunshade protection
Cup holder which can be used on either side of the frame
One hand recline with 4 recline positions that work independently
Easy umbrella fold with auto lock
User-friendly leatherette handle
Adjustable calf supports
Large shopping basket with zip for easy access
Viewing window
Bumper bars
Additional mesh ventilation panels
Reversible summer liners
Lockable front swivel wheels
Cosatto fleece lined footmuffs
Chest pads
Raincover
FREE 4 year guarantee
Footmuff
Custom-crafted to fit your pushchair perfectly.
Quilted for extra snuggles with kangaroo pouch for cosy little hands.
Summer fresh option. Just flip the liner.
Longer length for a longer lifespan.
Washable. On a handwash cycle at 30 degrees.
Features
Features and Benefits Suitable from birth Supports up to 25kg per seat Lightweight aluminium chassis with carry handle Full suspension Integral hood sunshade protection Cup holder which can be used on either side of the frame One hand recline with 4 recline positions that work independently Easy umbrella fold with auto lock User-friendly leatherette handle Adjustable calf supports Large shopping basket with zip for easy access Viewing window Bumper bars Additional mesh ventilation panels Reversible summer liners Lockable front swivel wheels Cosatto fleece lined footmuffs Chest pads Raincover FREE 4 year guarantee
5 Reasons to Buy
5 Reasons to buy Supa Dupa
Got 2 bundles of bounce? Cosatto's Supa Dupa pushchair goes plural with Supa Dupa. This double stroller features all known features – TWICE. Shop the show-off sidekick stroller…
Newborn Nester – More than just an umbrella-fold double, Supa Dupa rocks two independently reclining seats with newborn lie-back plus two reclining luxury leg rests for snug siblings.
Easy to Use - This lightweight stroller has a handy umbrella fold and carry handle so you can hop on and off transport with ease, plus there's a viewing window for your child to see the world.
User-Friendly Features - The Supa Dupa is all about ease, with one-handed multi-recline seat, adjustable calf support and an easy-access large shopping basket. All this, plus a handy storage pocket on the back, ultra-durable auto-lock wheels and the full suspension brings manoeuvrability and comfort. The Cosatto Supa Dupa also comes with a leatherette handle really making this twin stroller comfortable to push and easy to use.
All-Weather. With UPF100+ extendable ventilated hoods, rain covers and reversible fleece-lined footmuffs, Cosatto Supa Dupa is ready for any weather.
Clever Stuff for Happy Babies. Crafted with hidden extras and Cosatto's famous storytelling patterns, kids love sitting in the Supa dupa from Cosatto. Fire their imagination with the happiest stroller around.
Reviews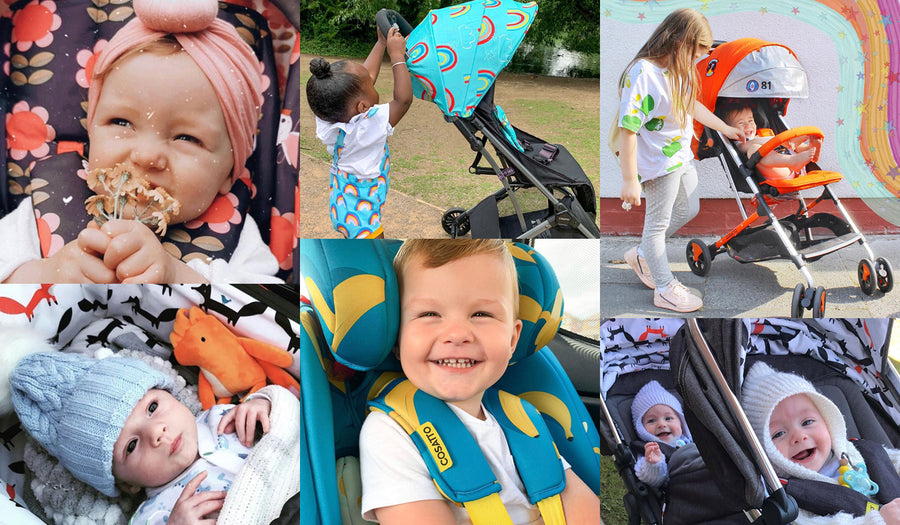 Show us your Cosatto
There's a bit of Cosatto waiting to burst out of everyone. Express yourself. Show us your most Cosatto look. Share your most Cosatto moment…
#bemorecosatto