Specification
The from-birth 3 in 1. Built by Cosatto - and parents.
Parent & world facing seat unit up to 25kg
Car seat carrier (car seat sold separately)
Stacked with on-the-go solutions.
Compact fold
Telescopic leatherette handle
Handy one-handed recline.
One-hand release carrycot
One-hand adjustable leg rest
Super-sized basket with handy compartments

Crafted for comfort and ready for anything.
Deep comfy seat
Seat structuring for ultra comfort
Exquisite tailoring and upholstery
Fresh air panel
Raincover
Hood with extendable sun visor
Industry leading 4 Year Guarantee.
Inspire them with pattern like no other. This is storytelling for your baby.
Suitable from birth up to 25kg
Seat unit suitable from 6 months up to 25kg
Carrycot suitable from birth to approx. 6 months
Compatible with Port 0+ car seat. (Car seat & adaptor both sold separately)
Compatible with Dock i-Size car seat. (Car seat & adaptor both sold separately)
From-birth carrycot with comfy mattress, carry handle and removable washable liner.
'In or out' facing pushchair seat lets them bond with you or enjoy the view.
Deep comfy pushchair seat for a supportive snuggle.
Seat structured and upholstered for ultra comfort.
Headhugger, chest pads and tummy pad. This is comfort.
The original Cosatto raincover.
Unique tyre material for enhanced durability with greater softness of ride.
Super sized basket with handy compartments for all your bits, bobs and big stuff. Thank us later.
Compact, easy-fold lightweight aluminium chassis – because you don't need heave-ho when you're on the go.
Removable bumper bar with padded cover. Hinged for easy cuddle access.
Telescopic leatherette handle lets you adjust the handle height for comfort. Tall or small, just walk happy.
Handy one-handed top recline button and one hand adjustable seat unit calf support. Handy when you've got a handful.
One-hand release carrycot. Gotta hand it to Wow.
Exquisite tailoring. This is Cosatto craftsmanship.
Fresh air panel for a breeze when you please.
Seat unit has hood with extendable sun visor and toy loops. Entertaining and protective.
Quick-release easy-clean removable wheels. Pop 'em off. Whizz 'em under the tap. Faff-free.
UPF50+ protection sunshade hood. Vital, splendid and highly adjustable.
All-round suspension for a smoother ride.
Lockable front swivel wheels for tight spots.
Also available. Sold separately:
The original Cosatto footmuff with reversible liner for all-season comfort. It includes kangaroo pouch for cosy little hands.
Coordinating patterned 'it' bag with changing mat.
Port car seat.
Port car seat adaptors to attach Port to your Wow.
Port Isofix Base.
Dock car seat.
Dock i-size base.
Dock/Multi-brand car seat adaptors to attach Dock to your Wow (or other leading brand car seats).
Reviews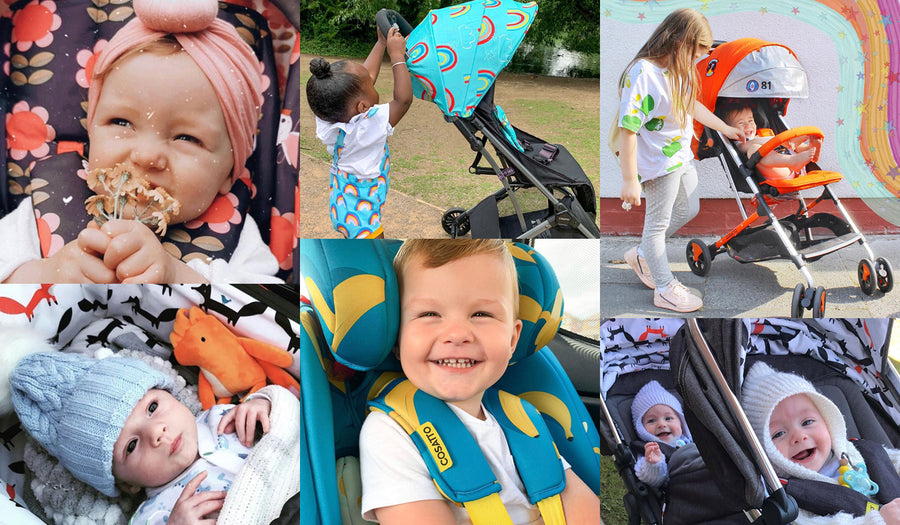 Show us your Cosatto
There's a bit of Cosatto waiting to burst out of everyone. Express yourself. Show us your most Cosatto look. Share your most Cosatto moment…
#bemorecosatto